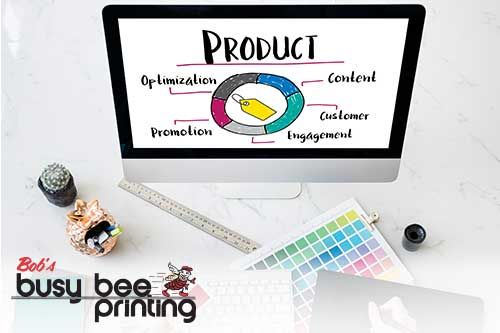 What are some different types of promotional products?
When searching for a provider of legal printing, medical printing, or general printing in Tampa, you'll find that the term, "promotional products," appears frequently. Are you looking to learn more about the types of promotional products available to you?
Follow along while our team covers the different types of promotional products available, and which promotional products may benefit your business the most.
What is a Promotional Product?
Promotional products are a form of alternative advertisement that's tangible and includes commonly used or carried items that contain a logo or message. Essentially, promotional products are anything that isn't paper, a website, or a banner. Think of promotional products as your favorite branded pen or coffee mug. The branding may include the company's tag line, name, phone number, or website.
This type of marketing is very beneficial as it focuses on both brand awareness and brand recognition. If you've ever used a pen or pencil with the name of your local bank on the side, then you get the idea!
What Types of Promotional Products Are There?
There are many different types of promotional products to choose from. Most of the time promotional products are smaller objects, but sometimes for a special event, you may consider something a little more complex. Common successful types of promotional products include:
Pens
Keychains
Coffee mugs
Hand SanitizersM
Buttons
Post It Notes
Tote Bags
Tablecloths
On our website, you are able to review all of the promotional products available to you. Once you find the one that suits your needs, let us know and we can provide a virtual proof for you to review.
What Types of Promotional Products are Best for My Business?
While some types of promotional products are statistically more successful than others, it has a lot to do with where and when you use them. Pens are always a solid option, as they aren't difficult to give out to the general public, and they are used for a long-time used and have a chance to stand out to the person using them.
Other types of promotional products see the best results in specific situations. For example, if you're organizing an event, trade show, or conference then you might consider:
Customized Water Bottles - Fresh bottled water is always appreciated during any event in Tampa with our hot weather.
Key chains - Key chains are useful and are almost always put to good use. This means a lot of advertising time.
T-shirts - T-shirts are great for wearing or giving during events. Everyone appreciates getting a shirt and the large surface area gives you plenty of room to advertise.
Sports packs - Sports bags, totes, and carry bags are useful products that your clients - and potential clients - can really appreciate. These make them an awesome choice if you're looking to stand apart from others. Plus, they are perfect for holding all of the items collected at trade shows or public events.
Contact Bob's Busy Bee Printing for Promotional Products in Tampa, FL
Interested in finding out more about the different types of promotional products, and how they can help your business step up it' marketing game? Bob's Busy Bee Printing has been offering superior printing services and promotional products to Tampa businesses for over 40 years. Whether your business is small, large, or anything in between, our expertise and experience can help you to find the perfect types of promotional products that fit your business best. Give us a call at 813-933-2434!