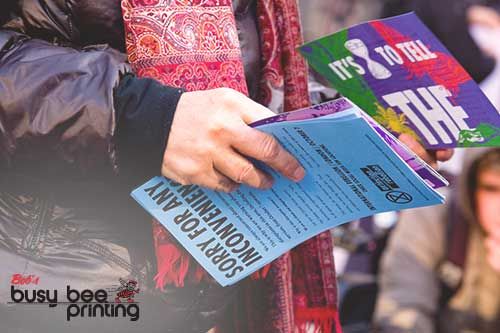 Advantages of print media in 2020.
The advertising world has certainly seen a lot of changes in recent years. It seems that the entire world has gone digital almost overnight. From websites and social media to phone apps and online podcasts, it is a very different world indeed. The good news is that marketing methods that have been around for decades continue to make a huge impact.
Print media, for instance, has proven that it has a place right alongside the digital world. This tried-and-true advertising medium can help businesses flourish by providing consumers with the information they need in a convenient manner. To help drive this point home, let's take a look at a few advantages of print media and printing services that can be used for brochures, flyers, and other promotional products in Tampa:
People Enjoy Tangible Things
So much of our existence seems to live in the virtual world these days, but people still love to deal with tangible objects. Giving them some sort of print media that they can hold and interact with will often give them a bigger connection to whatever information is being related to them. Young people might even see holding a real piece of media as being retro and cool.
Print Provides More Focus
When people see advertisements and articles online, they often peruse the page quickly and without focus. That's why certain details may be missed by the reader. With print media, however, the information in front of them is unencumbered by annoying banners, competitor ads, and other things that may distract them from pertinent information.
Doesn't Easily Disappear
Many people have suggested that we live in a disposable society, which can often be seen by the way we process digital media. Before we have time to concentrate on one advertisement, you're already three advertisements past that. Given the physical nature of print media, however, not only do these things not disappear as easily, but they are often passed from person to person.
Not Intrusive Like Online Ads
When you visit a website, you are often inundated with multiple ads at any given time. Some sites are so "busy" with ads that it's difficult to navigate at times. It's madness! Print media that arrives in the mail or in the form of a flyer at your doorstep isn't intrusive at all. These types of printing services in Tampa give the receiver the option to review the item at their leisure.
Curiosity Equals More Exposure
How many times have you received a piece of media in the mail and been inclined to read it? When something is in print, especially when it's been well-designed with the intention of luring people in, you're very likely to check out what it says just out of curiosity. This is why so many companies continue to leave flyers on the doors of potential customers - because they work!
Fewer Ads Fighting for Attention
Purchasing online ads can be effective but many websites have so many different ads that it's difficult to wade through all of them. Print media allows a more low-key, but just as effective, method of delivering information to a potential customer. Instead of fighting for space, you'll have their undivided attention. C
Can Be Used in Unison with Digital
There's absolutely no reason why print media and digital media can't work together to give your marketing a one-two punch. Any type of print media that you use to advertise a product or service can be used to point potential customers in the direction of your website and any social media accounts that you have. This union, when utilized properly, can lead to even greater exposure.
Learn More Advantages of Print Media from Bob's Busy Bee Printing
Bob's Busy Bee Printing has become the most reliable print shop in Tampa because of our dedication to excellence. If you want to know more advantages of print media or how our services can help grow your business, call us at (813) 933-2434.