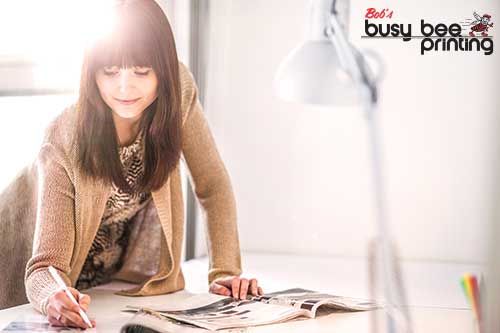 Print marketing materials are still an important aspect for successful marketing.
Why should you use print marketing materials? Aren't we in the digital age? Online content marketing may be the focus of many marketers and lead generation specialists, but consider this: consumers trust print advertisements 34% more than they trust search engine ads and find printed content easier to read than digital. These statistics should make one thing very clear. Not only is print marketing still alive, but it's also still an intrinsic aspect of successful business marketing and branding. So, that leaves you with an important question — What print marketing materials should your business be using?
Business Cards
Business cards have been a print marketing staple for decades. Not only are they easy to customize and produce, but they're also excellent for networking and provide clients with an easy way to access relevant contact information from your business when they need it. Additionally, business cards carry extra value in being one of the most shareable print marketing materials available. By issuing a couple of business cards after each transaction, you empower your clients with the ability to spread the word about your business, providing excellent long-reaching marketing prospects. Just remember: 39% of people say they are less likely to do business with a company that offers "cheap" looking business cards. You have to nail the design if you plan on using business cards optimally!
Company Brochures
A well thought out company brochure offers two main values. The first value is found in a brochure's ability to provide your clients with in-depth information about your services and products that they can easily digest in their own time. Second, brochures help your sales team by arming them with a valuable, easily referenced source of information. This helps them to stay focused during a pitch and ensures they maintain complete consistency with the core values and mission of your business.
Product Data Sheets
When a consumer is well informed about a product they feel substantially more confident in making a purchase. Modern buyers aren't as taken-in or interested in sales pitches and paid advertisements as they once were. This means having comprehensive, detailed information about the exact specifications of your products is vitally important in order to increase revenue and boost overall sales.
Banners
Billboards might have lost much of their power over the years, but the importance of signage still remains remarkably strong. Banners and signs let clients pick your business out in a crowd, or will make your business stand out in a tradeshow. Keep in mind, however, that banners are all about first impressions. They express the personality and brand of your business. This means if you design an eye-catching and engaging banner, you can benefit substantially. If your banner is bland and forgettable, then so is your company in the eyes of the public.
Follow-Up Thank You Cards
People love to feel a sense of community with the brands that they trust, and a good business relationship goes a very long way in improving client retention and loyalty. Thank you cards are an easy way to let your patrons know that you appreciate their business, and you look forward to meeting their needs again. Plus, you can throw in business cards or a brochure so that they can spread the word.
Print Marketing Materials and Promotional Products in Tampa
Bob's Busy Bee Printing is a full-service print shop in Tampa with years of experience! If you're looking to improve the presence of your brand or to increase sales, we're the team offering superior print marketing materials at a competitive price point. Learn more about top-quality print marketing materials from Bob's Busy Bee Printing by calling now at 813-933-2434!