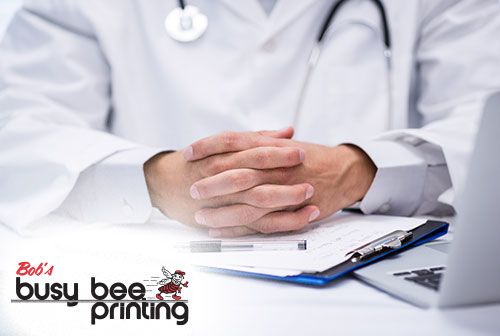 Medical printing for practices in Tampa Bay.
Printed materials are frequently the first point of contact a new patient will have with your medical practice. For this reason, nailing the design, relevance, and overall presence of your medical printing materials is key. It boosts your networking power, increases the brand awareness of your business, and keeps you in the minds of those who might seek your services in the future.
So, when looking into printing services what printed collateral should your medical business focus on in order to increase presence and impact among your patients?
Consistent Branding Across All Documents and Stationary
Before we begin naming singular items or high-impact medical printing materials, it's very important to establish the fact that consistent branding is absolutely imperative. Beyond brochures, beyond business cards, and beyond anything else, presenting patients with branded stationery and documentation is huge. Patient intake forms, information forms, printouts — all of these should be branded appropriately.
Branded documents create a sense of uniformity, giving the impression that your business is organized and professional. Also, documents are the most printed materials in your entire facility, and the relatively low cost of applying a well-designed logo and brand constitutes one of the most cost-efficient printing services and brand marketing tools available.
Business Cards
Among individually printed materials none are more important than business cards. Business cards are highly portable, easy to print and pass out, and are counted as one of the strongest networking tools available, even in the digital age. These are especially invaluable as medical printing collateral, as business cards are ideal for writing a brief, important notes to patients, or adding in scheduling information. Additionally, if a patient needs to reach you quickly, nothing will provide them with needed contact information more quickly than a business card.
Informational Posters
Patients waiting in your medical facility are often nervous and feeling ill-at-ease. Or even worse, they're bored. Providing patients with relevant information not only distracts them from discomfort and helps them to settle, but can also alleviate concerns due to a gap in knowledge. For fulfilling this purpose there's absolutely nothing more effective than well-designed informational posters and banners. It's a great choice not only for helping your patients out but also for establishing your business as an authoritative source of information regarding illness.
Brochures
Brochures used as a medical printing material present a variety of great uses. These can be used to quickly teach new or returning patients about your practice, letting them learn more about your mission and values, as well as any changes or new healthcare services you provide. Brochures are also excellent for showcasing any medical procedures or treatments your business specializes in and can provide some initial guidance and information to patients that may be interested in said treatments.
Thank You Cards
Individualized care and working with a practice that sees patients as people has never been more important in the medical field. Thank you cards, postcards, and "get well soon" letters are an ideal means of maintaining contact with patients and showing them their needs and overall health are important to them.
In the same vein, direct mail postcards also offer tremendous value to your practice. These are excellent for showcasing new treatments or procedures your office provides, as well as educating relevant patients on potential advancements that pertain to their unique medical needs.
Tampa Medical Printing Services from Bob's Busy Bee Printing
If you own, operate, or manage a medical practice in the Tampa Bay area, look to the professionals at Bob's Busy Bee Printing for medical printing services. Our experienced, in-house designers and printing specialists can help you build powerful marketing strategies based on medical printing tools proven to give great results.
Learn more about our medical printing and printing services in Tampa by calling today at 813-933-2434 for a no-cost consultation!