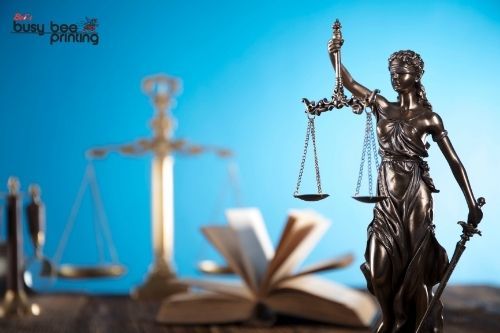 How can your law firm benefit from legal printing services?
A successful law firm needs more than a team of fantastic attorneys; it also requires cohesive and cost-efficient operations. When a law firm has efficient operating procedures, it can better serve its clients. Outsourcing some of your tasks, like printing your legal documents, can help your law firm run smoothly and more efficiently.
Benefits of Outsourcing Your Printing to a Business That Offers Legal Print Services
Don't stretch your labor and equipment resources too thin by trying to complete your own printing jobs. Instead, work with a company that provides legal print services. Here are a few reasons law firms should use legal print services for their printing needs.
1. Customize Legal Print Services to Your Unique Specifications
No printing assignment is the same, and this includes legal printing needs. When you use legal printing services, you're able to tailor the order so it meets your needs. Our printing services can incorporate the following customization options:
Page designs adapted for the use of staples or clips
Color or black and white pages
Size adjustments for your documents
Quantity adjustments for your document orders
Not sure what kind of customization you need for your legal print services? A company that specializes in printing services will assist you with understanding your options so that you make the right decision for your law firm. If you're short on time, you can even request custom binding for your printed documents so that they're ready to go.
2. Printing Services Can Save Your Law Firm Time
Your law firm has a lot that it needs to accomplish; don't spend more time than necessary on your legal print services. Working with a printing service is an easy way to reduce the amount and length of time it takes to fulfill your firm's printing needs. Instead of taking the time to print out all of the legal documents you need, you can send over a pdf of your legal forms. The printer will then use the file or proof to fulfill your order. They'll take care of all the document formatting, ensuring that it adheres to your specifications, and deliver the copies when they're ready. Your firm will have more time to focus on what it does best: assisting clients with their legal needs.
3. Legal Print Services Can Assist with Your Other Printing Needs
In addition to printing your legal documents, Tampa print services can help you fulfill your other printing needs. If you need promotional products for an event or job fair, your legal print services company will work with you to produce the best materials for your company. Or, you might need promotional items for a career fair. Your printing company can help you explore alternatives that effectively represent your law firm.
Contact Bob's Busy Bee Printing for Legal Printing Services in Tampa!
Have more questions about legal print services? Contact Bob's Busy Bee Printing today for more information and to schedule a no-cost consultation.