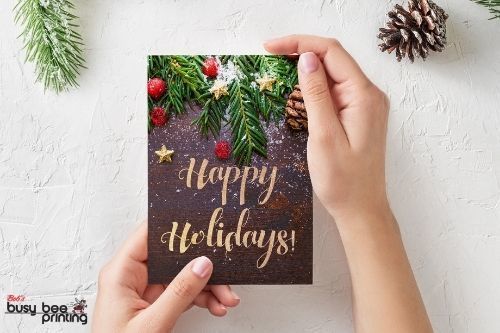 Are you looking for a new way to connect with your customers during the holiday season? Perhaps you're starting a new promotion or marketing campaign? Maybe your tailoring your social media to send holiday greetings and messages?
While all of these are great ideas, many of your customers still enjoy receiving physical holiday cards in the mail! Sending holiday cards is a great way to connect with your clients and let them know you're thinking of them.
But will any old holiday card do? The answer is no! You need to custom tailor your holiday cards and personalize them to each of your clients.
Compelling Reasons to Send Custom Holiday Cards
Even if you haven't sent holiday cards in the past, this is a fantastic time to check out holiday card printing and place your order. Here are some of the benefits associated with sending custom holiday cards to your customers.
You'll Stand Out from Your Competitors
In today's digital world, it's increasingly rare for people to send meaningful physical pieces of mail. When you work with professional printing services to order custom holiday cards, you set yourself apart from competing companies.
Your customers will have an actual holiday card from you that they can open, read, and display; this helps humanize your business and builds customer loyalty.
You Can Reconnect with Old Customers
Holiday cards are an excellent way to connect with old customers you haven't seen or spoken to in a while. These customers will appreciate the fact that you thought of them, even if they haven't requested services from you in a while.
Seeing your company's name may encourage them to revisit their business needs. Make sure to include a handwritten message in your cards for a truly personalized touch!
Your Custom Holiday Cards Can Accompany Any Gifts You Send
Your business might choose to send gifts, like useful promotional products, to your customers. You could include personal protective equipment, like a face mask, with your company's logo. Or you may give your customers practical everyday items, like a flash drive or pen.
A card is a terrific addition to go with these promotional items. Not only will a card quickly let the recipient identify who the gift is from, but it lets you express gratitude for their business relationship.
Your Recipients Might Display Your Custom Holiday Cards
Many people display the holiday cards that they receive as part of their holiday décor. If your customers decide to display your custom holiday cards, this is an easy way to potentially increase your company's exposure.
When it's time to explore holiday card printing, look for charming, eye-catching designs. Your print services can help you select a card that suits your company's aesthetic.
Your Holiday Cards Will Foster Goodwill
Sending a holiday card is typically viewed as a kind gesture. A holiday card means your customer is more than just a source of income for you. You view the customer as a person to who you're choosing to personally extend well wishes to without trying to sell them something.
Contact Bob's Busy Bee Printing for Custom Holiday Card Printing Services
Have questions about ordering custom holiday cards? Contact Bob's Busy Bee Printing today to schedule a no-cost consultation for custom holiday card printing services! Our team will help you design and print custom holiday cards for each of your clients just in time for the holiday season!