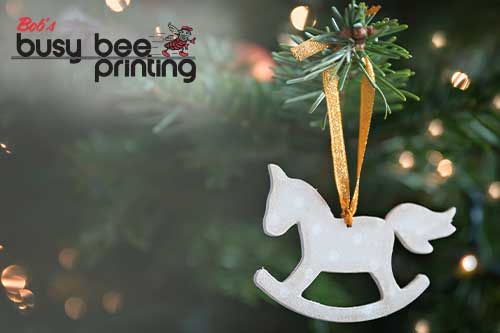 Why it's a good idea for businesses to print holiday cards for their customer base.
As the Tampa summer heat finally begins taper off, our thoughts start to turn to the Holiday Season which will soon be upon us. Are you thinking about printing holiday cards this year? If so, here are some tips about the best ideas and practices for printing and sending out holiday cards to your customer base.
Establish Who You Are Printing Holiday Cards For
Before seeking out a Tampa printer, it's best to create a list of all the parties you intend to send cards to. Perhaps you want to send holiday cards to your clients, or maybe you're looking to craft a custom holiday card for your employees and associates. Knowing who you will include is key since it will help create the content of the card, and help figure out how many cards are needed.
Settle on Your Colors
We all know holiday colors and what they look like. Maybe you're a traditionalist, and that's great! Red and green are classic and complementary to one another. Blue is a great winter choice, and options like silver and gold work to enhance colors without overtaking them. However, if you're looking for something a bit more custom, consider adding your logo to some of these options listed above.
Select Eye-Catching Holiday Card Art When printing holiday cards, you can never go wrong with adding your logo or tag line. Avoid making your business the focal point though. Carefully integrate your brand into more commonly recognized and cherished holiday themes and images. This will give you art that others can appreciate, while also keeping your brand in mind. It is so important to include a sentiment to let your customers or associates know how much they are appreciated. Please visit our website and look at all of the holiday cards available to customize and send.
Designing and Printing Holiday Cards with Bob's Busy Bee Printing If you have made the decision that you would like to send out holiday cards this year, then you've come to the right place. Bob's Busy Bee Printing is a locally-owned Tampa printing company with decades of experience! Our dedicated design professionals can provide you with top-quality holiday cards from our holiday catalog or with a custom design.
To learn more about printing holiday cards, contact Bob's Busy Bee Printing by calling 813-933-2434.