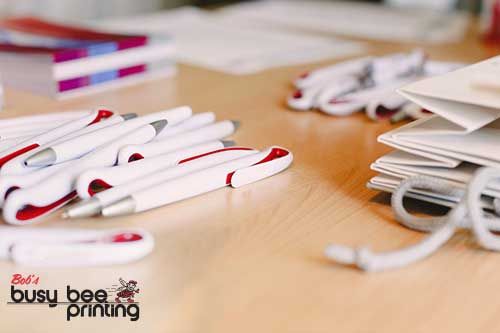 How can promotional merchandise grow your customer base?
Successful businesses of all sizes use promotional materials regularly. This kind of merchandise extends the reach of a corporate brand. Promotional Products Association International(PPAI), states that 89% of consumers received a promotional product at some time. Also, PPAI reported that 79% of consumers who receive promotional products are more interested in the company and research them. An astonishing 83% of these consumers are more likely to do with business with that company. As you can see, promotional products can enhance your business in a positive way. Here are three ways promotional merchandise can help increase your business.
Decreases Your Marketing Cost
Although we live in a digital age, people still use pens to write notes and fill out forms. Promotional pens on average can cost between $.50 and $1 each. Advertising Specialty Institute (ASI) states that almost 90% of consumers have a promotional pen in their possession. ASI goes on to state that promotional pens generate about 3,000 impressions. If you buy 500 pens at $1 each, and you get 3,000 impressions per pen, your cost per impression is only .$16 each. This is a very insignificant cost to help boost your marketing strategy. The PPAI reports that writing instruments increase sales volume by 6.6%. As a result, you can see the growth in your business.
Creates Immediate Awareness of Your Brand
Promotional products increase the chance of quick recognition of your logo/ brand. Consumers at home or office drink coffee or tea daily. A mug showing your company logo on it places your brand in the consumers' mind every day. With that kind of recognition, your sales volume will increase as the client thinks of your company more often. PPAI reports that promotional merchandise like drinkware increase sales volume by 8.4%.
Broadens the Visibility of Your Brand
T-Shirts, Sweatshirts, and Baseball Caps and other wearables increases the visibility of your corporate brand. The more people see your company logo on these items when they are worn, they are advertising your company and serve as a mobile billboard for your brand. Your brand goes where the consumer goes. The PPAI shows that promotional products like wearables increase the sales volume of 28.8%. other consumes who see that tote bag in use. Also, a branded cable dock can act as a continuous introduction of your brand. Consumers see your logo every time they download or back up relevant documents. According to ASI, wearables like t-shirts create 3,400 impressions. And promotional products like cable docks create 700 impressions. That's 4,100 introductions to your brand.
Learn More about Promotional Merchandise with Bob's Busy Bee Printing
Bob's Busy Bee Printing is ready to help you design and utilize promotional merchandise to expand your brand name and build a larger customer base. Contact us today at 813-933-2434 to schedule a no-cost consultation for printing services and promotional merchandise design.