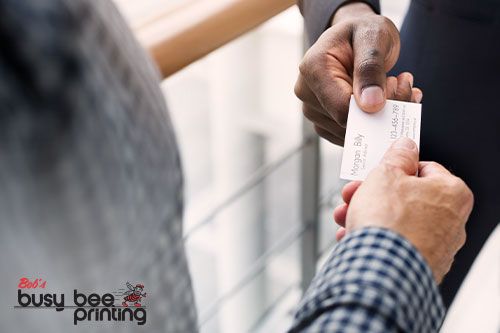 How to design effective business cards.
You may think all the marketing power has officially moved to the online world, and though digital marketing is a major factor in modern marketing, print collateral still plays a huge role. Human connection and networking are more important than ever and is now viewed in a positive light. During this face-to-face networking is the use of business cards. If you know how to design and properly distribute business cards, you can increase your networking power, foster trust in your brand, and establish yourself as an authority over your competition.
Information Should Be Clear and Concise
Optimizing your cards for readability with a eye catching design is the key to effective business card design. Try to flood the buyer with too much text or choose a dizzying array of colors can confuse the information presented on the card. Business Cards should contaning the following information:
Business name with a description of what you do if it is not clear
Phone and fax numbers
Email and web addresses
Social media addresses
Design Business Cards with Your Business in Mind
Business cards are a visual representation of your company. This means the design needs to make sense and has to be easily associated with the type of work you perform. The basics of accomplishing this are always the same: use logos, colors, and information relevant to your business. For further appeal and quicker recognition, you can go an extra step by adding little details. For example, a contractor may include a photograph of some of their best work, or a restaurant might add appealing images of their most popular dishes.
Ensure Sufficient White Space
White space refers to any part of the card that doesn't contain type or a design — white space doesn't have to be white and often isn't, but it plays an important role in accenting the information present on your card without mind flooding the recipient. Cards that are covered edge-to-edge with information can be overpowering, leading the cardholder to simply tossing the card if they don't find it appealing.
Make Both Sides of the Card Useful
Appointment dates, calendars that detail important upcoming events, facts or tips related to your business type — providing additional uses for your business card extends its longevity and usefulness. It also offers the best way to distinguish your card from the competition outside of design.
Choose Quality Business Card Materials
Bob's Busy Bee Printing offers many options to choose from when designing business cards. We offer cards on uncoated stock, matte, silk, suede,UV coated and painted edge cards. Come in today to look at the various options we offer.
Work with an Experienced Print Designer
Bob's Busy Bee Printing has a full time graphic designer on staff to help with any of your design needs. We can meet with you one on one to discuss what you are trying to accomplish and then make you business card a reality.
Business Printing from Bob's Busy Bee Printing
Are you looking to work with a professional print shop in Tampa? Bob's Busy Bee Printing features the best designers and technology available in the industry, offering you a single source for all of your printing needs!