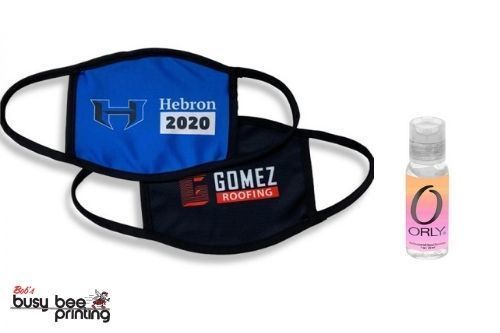 Custom PPE Safety Equipment Printing
Research consistently indicates that mask-wearing prevents the transmission of respiratory droplets that spread COVID-19, slowing the spread of the virus and lowering the overall death rate. Not only does PPE safety equipment keep workers safe, but it decreases their likelihood of transmitting germs to those around them.
Why Custom PPE Safety Equipment Will be a Hit with Your Customers
It's common for businesses to use professional printing services to order logo-branded items to distribute to their customers. Logo-branded custom PPE safety equipment is one alternative to consider. Here are a few reasons your customers will appreciate these essential products.
PPE Safety Equipment is Necessary
One of the benefits of PPE safety equipment is that nearly everyone has a use for it. High-quality hand sanitizer only uses safe ingredients and is always in demand, even without the COVID-19 pandemic. Many people always carry a bottle in their vehicle or personal bag. Bob's Busy Bee Printing offers many sizes and shapes to choose from while adding a logo and company information to make it personalized.
The COVID-19 pandemic has led to an exponential increase in the demand for face coverings. Customers will appreciate a comfortable, breathable face mask that they can use to protect themselves. It's also one of the promotional products that typically aren't size-specific thanks to the adjustability of many popular face mask designs.
Promotional items that are practical are more likely to be used. The more your customers use their PPE safety equipment with your logo emblazoned on it, the larger the number of people that will ultimately become aware of your business and keep it front of mind.
When someone needs to hire a company for printing services, they're more likely to use your company due to the brand recognition of your company's name.
Customers Will View Your Company in a Positive Light
Another benefit of working with a professional print service for personal protection equipment is the positive impression created with existing and potential customers. Customers will view your company as caring and considerate because you care about preventing the spread of the virus. In a time where even elected officials seem to underestimate the dangers of this pandemic, this positive exposure can go a long way.
Durable Protective Items are Particularly Sought After
The durability of personal protection equipment has become an issue for some individuals, as companies have taken shortcuts in the manufacturing process to produce more products and earn larger profits. It's frustrating for your customers to receive an item, only to have to dispose of it within a few days.
Your PPE items are an indirect indicator of your company; if you hand out junky promotional items, your customers may believe you produce low-quality products or provide subpar services. By distributing sturdy PPE safety equipment, you're showing your customers that you value performance and longevity.
Contact Bob's Busy Printing to Have PPE Items Branded
Ready to order custom PPE safety equipment? Bob's Busy Bee Printing is ready to get started! We have a variety of PPE equipment you can add your logo, slogan, or brand image to. Contact us now for a free consultation at 813.933.2434.