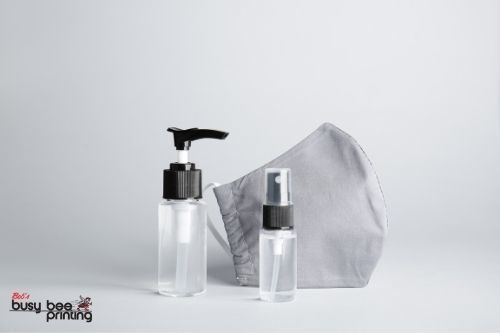 Custom promotional PPE products will still be a popular option for company marketing efforts in 2021.
Data indicates that 89 percent of people who've received promotional items in the past couple of years report that they still remember the name of the company who gave it to them. Promotional products are an effective way to familiarize your brand name to a wider audience and increase brand recognition.
When ordering custom promotional products from a printing company, consider opting for personal protection equipment. These promotional items are sure to create a favorable positive impression with existing and potential clients. This is especially true in the midst of the COVID-19 pandemic. With more and more companies and events beginning to reopen, now is the time to get these products ready for 2021.
Compelling Reasons to Design and Develop PPE as Custom Promotional Products
With the COVID-19 pandemic, the demand for personal protection equipment has dramatically increased. Face masks are now known to protect both the wearer and those around them, while portable sanitizer bags are a hot accessory to protect phones, keys, and other handheld items from germs and viruses.
Here are a few reasons your business should select PPE for its custom promotional products.
Personal Protection Equipment Creates a Favorable First Impression
You only have a few moments to create a impressive first impression with individuals who aren't familiar with your company. Personal protection equipment is a great selection for your custom promotional products because it gives the impression that your company cares about the wellbeing and safety of its customers.
Custom PPE Will Help Promote Your Brand
If you want to boost your brand's exposure, order personal protective equipment from a company that provides design and printing services for your custom promotional products to help you. Face masks are mandatory in many establishments and many individuals report that they will continue to wear masks to protect themselves and those around them. This means that these protective custom promotional products will be seen by people in numerous locations.
Or, you might have your printing services provider produce hand sanitizer bottles with your company's logo. Since many people keep hand sanitizer on them at all times, and often offer to friends and family, a large number of other individuals are likely to see your brand name.
Handy Promotional Items are More Likely to be Used
When you order custom promotional products from professional printing services, people are more likely to use the promotional items if they're something they need. Due to the COVID-19 pandemic, personal protective items are in high demand, even in the digital market. Your current and potential customers will use these items for months to come, increasing the amount of exposure that your company receives.
Contact Bob's Busy Bee Printing at 813-933-2434 today for Custom PPE Design and Printing!