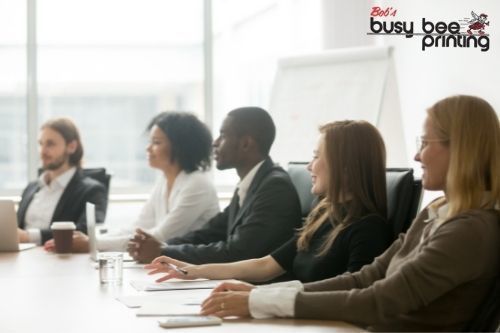 Check out some of our promotional product designs!
After just two years in business, Diversity Staffing Agency has already found resounding success with its mission statement - to champion veterans and disabilities with employment opportunities. When they approached Bob's Busy Bee Printing, it was clear that there was a huge opportunity for growth through the power of printed media and promotional product design. Once we had learned about the company and spoken with the people behind the concept, our team was confident that an effective marketing campaign was right around the corner.
Promotional Approach Taken by Our Design Team
As needed, our team of design specialists will work closely with a client to develop a promotional product design campaign that targets their specific customer base. Since Diversity Staffing Agency focuses on employment opportunities for veterans and disabled persons, we wanted to select promotional items that reflect some of their common and expected needs. Our approach was to provide branded products that offer functionality and convenience with the target audience in mind. 
Promotional Products Developed by Our Team
After careful consideration, our team at Bob's Busy Bee Printing put together a promotional product design package for Diversity Staffing Agency consisting of these items:
Retractable Banner Stand
To start off, our team developed a retractable banner stand that could be utilized in the agency's lobby and other venues. This graphic gives visitors a quick rundown of what the staffing agency is all about and what services they offer.
Drawstring Backpacks
The next promotional product came in the form of a drawstring backpack. This was chosen because of the difficulty some of the agency's clients have with carrying items whether they're on foot or in a wheelchair. While this item is designed to go on a person's back, it can also be placed elsewhere for easy travel.
Detailed Brochures
Printed brochures continue to be one of the best ways to introduce newcomers to your business. Coupled with digital marketing campaigns, we are confident that the detailed brochures developed for Diversity Staffing Agency will serve as the perfect call-to-action for local recipients.
Mask Coverings
Since many of their clients are either elderly, in ill health, or both, it was important that our team include health-conscious items. Our first promotional product in this category was a face covering/mask that could be worn to protect users from COVID-19 and other airborne viruses.
Sanitizer Keychains
In keeping with a health-conscious approach to promotional product design, our team decided to also include hand sanitizer in the collection of items. This small bottle of sanitizer is attached to a clip that can be placed on either a set of keys or in another convenient location such as the side of a wheelchair.
Branded Pens
In addition to the focused items listed above, we also wanted to include a common item that everyone needs to use. We settled on thick branded pens that are perfect for elderly veterans and disabled persons who may have difficulty gripping smaller writing utensils.
Can Cozies
Last but certainly not least, another popular item that we decided to include in our promotional product campaign for Diversity Staffing Agency was a can cozy. This sleeve fits over a standard size aluminum can which makes them easier to grip while also keeping the beverage cool.
Contact Bob's Busy Bee Printing for Promotional Product Design
The team at Bob's Busy Bee printing can help you develop a customized promotional product design plan of your very own. If you have any questions about our promotional products or would like to place an order for printing in Tampa, give us a call at (813) 933-2434 today to schedule a free consultation.